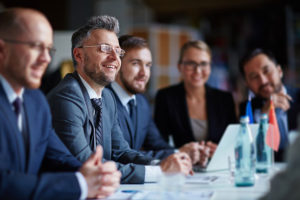 IFG can assist businesses in choosing and establishing a retirement plan for its employees. This may include options such as Simplified Employee Pension plans, which can be a great choice for small businesses and sole proprietorships. By assessing a client's needs and budget, one of our Benefits Consultants can help a company decide if a Simplified Employee Pension is the right choice for their organization, and can help them set up the plan. Businesses who work with IFG can save time and financial resources, and our clients will be assured that their retirement plan conforms with all laws and requirements.
Simplified Employee Pensions
Simplified Employee Pensions, also known as SEP, is a type of retirement plan that employers can offer to employees. It is an Individual Retirement Account (IRA) plan that allows employers to make tax-deductible contributions to employees IRA's, which may also include the business owner.
A SEP has tax advantages for both the employer and employees. The company can deduct contributions to eligible employees IRA's, and employees do not pay taxes on these contributions. Instead, employees may be taxed when the money is withdrawn. Interest on the accounts also grows tax-free until distribution.
Rules and Eligibility for Simplified Employee Pensions
A SEP can only be established by an employer, provided that the business has one or more employees. The employee can be the business owner, which means that sole proprietorships and other small businesses may be eligible for SEP plans. Employees themselves cannot start a SEP plan unless the employee also owns the business.
However, an employee's participation is required to start a SEP. Each eligible employee must open a traditional IRA so that the employer can make contributions to the account. In some cases, this account must be labeled as a SEP IRA before contributions can be deposited. Because SEPs are a type of IRA, they may be subject to the same rules as IRAs. This includes strict limits on contributions and distributions, as well as complying with the financial and legal requirements governing IRAs. This type of plan is subject to both state and federal regulations.
For employers, setting up a SEP requires signing a formal agreement promising to provide retirement benefits to all eligible employees. The IRS provides a form for employers, but companies may be free to utilize a different form, including one from a financial institutions or a customized agreement. Once the contract is in place, employers must then inform each eligible employee about the details of the SEP, including eligibility rules and other plan requirements. Finally, the employer must establish an IRA for each eligible employee. If the employer does not take this final step, the IRS may disqualify the SEP plan.
Benefits of a Simplified Employee Pension
A SEP has many advantages over other retirement plans. One of the biggest attractions to a SEP is that there is a higher contribution limit compared to other plans like 401(k)'s. In 2016, employers can contribute up to 25% of an employee's salary, or $53,000, whichever is less. This high contribution limit is particularly advantageous to employees.
For employers, the benefit of a SEP can be found in its name: it is a simple way to establish a retirement plan for employees. These plans may be worthwhile considerations for small businesses because of their relatively low cost and lack on annual filing requirements. They are fairly easy to administer, and employers have discretion in choosing how much to contribute and when to make the contributions each year.
Advantages of Working with A Benefits Consultant
Many employers are unfamiliar with the process of setting up a retirement plan for their employees. This is where IFG can fill the gap for companies. Our retirement plan professionals can use their specialized knowledge of retirement plans, finances, and federal and state laws to help employers pick the plan that is most suitable for them. A Benefits Consultant can evaluate a range of retirement plan options for a business, and help steer them towards the one that meets their needs and budget.
If an employer chooses to implement a Simplified Employee Pension plan, IFG can help the business establish the plan, including: putting a formal agreement in place, informing employees of the plan, and establishing a SEP for each eligible employee. Working with IFG will ultimately save an employer time and resources in selecting and implementing the right retirement plan to go with.